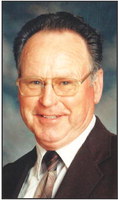 Obituaries
September 20, 2023
Bobbie Joe Thomas
Dec. 7, 1931 – Sept. 10, 2023
Sallisaw – Graveside services for Bobbie Joe Thomas, 91, of Sallisaw, were held at 11 a.m. Friday, Sept. 15, 2023, at Lone Elm Cemetery in Columbus, Kan., under the direction of Agent & Mallory-Martin Funeral Home.
Mr. Thomas was born on Dec. 7, 1931, in Scammon, Kan., to Samuel Alfred Thomas and Lela Gussie (Scott) Thomas. He died on Sunday, Sept. 10, 2023, in Sallisaw.
He was a retired educator, a veteran of the U.S. Navy and of the Pentecostal faith.
He married Hazel Marie Collins on July 13, 1952, in Pittsburg, Kan. She preceded him in death on Jan. 26, 2016.
Survivors include one daughter, Sharon Kay and Robert Neeley of Olney, Texas; one son, Robert and Korin Thomas of Sallisaw; two brothers, Billy Thomas and Samuel Thomas; seven grandchildren; 13 great-grandchildren, plus two on the way; one great-great-grandchild; and other family members and friends.
He was also preceded in death by his parents; one daughter, Sheila Marie Thomas; one brother, Lewin Thomas; and two sisters, Darlene Rapp and Barbara Golden.
Pallbearers were Scott Reed, Nathan Walka, Wade Mays, Ricardo Rodriguez and Brandon Commons.