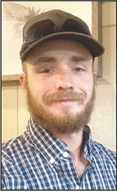 Obituaries
September 20, 2023
Jason Douglas Shockey
June 25, 1994 – Sept. 10, 2023
Sallisaw – Graveside services for Jason Douglas Shockey, 29, of Sallisaw, were held at10 a.m. Monday, Sept. 18, 2023, at Sallisaw City Cemetery under the direction of Agent & Mallory-Martin Funeral Home.
Mr. Shockey was born on June 25, 1994, in Fort Smith, Ark., to Douglas Carl Shockey and Susan (Remy) Shockey. He died on Sunday, Sept. 10, 2023, in Sallisaw.
He was an internet installer. He married Shoshanna Livers on Oct. 1, 2018, in Sallisaw.
Survivors include his wife, Shoshanna Shockey of Sallisaw; one daughter, Paislee Rayne Shockey of Sallisaw; two sons, Derek Wayne and Jackson Noah Shockey, both of Sallisaw; one step-daughter, Layla D. Lewis of Sallisaw; his parents, of Sallisaw; one sister, Megan Shockey and Mason Rutherford of Sallisaw; one brother, Brandon and Courtney Shockey of Sallisaw; and other family members and friends.
He was preceded in death by one brother, Derek Shockey.
Pallbearers were Tyler Shell, Brandon Cheater, Cody Pritchett, Delmer Livers, Jerrad Livers, Nathaniel Livers and Gabriel Livers.