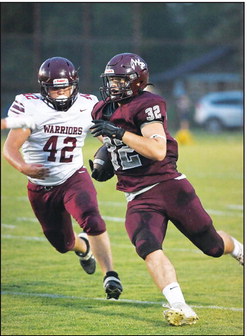 sports
September 20, 2023
Webbers Falls routs Oaks in battle of Warriors
The Webbers Falls football team remained undefeated as it ran its record to 4-0 with a 53-8 rout of Oaks 53-8 in a mercy-rule game Friday night at Smokey Cox Stadium in a contest called with 4:48 in the third quarter in the first home game for Webbers Falls in three weeks.
After its defense stopped Oaks on downs, Webbers Falls turned the possession into a scoring drive as Maddux Shelby scored on a 66-yard touchdown run. Dylan Young's extra point put the local Warriors ahead 7-0. Then, it was a defensive score for Webbers Falls as Brutus Robinson recovered an Oaks fumble and returned it for a TD. While the conversion failed, Webbers Falls was ahead 13-0.
After stopping Oaks once more, the ensuing Webbers Falls drive was capped by Maddux Shelby's second touchdown run with 3:47 left in the first quarter. The conversion failed, but the host Warriors were up 19-0.
Young recovered a fumble on Oaks' next possession, and that takeaway was cashed in by Webbers Falls as Dawson Littlefield scored a TD with 41.3 seconds left in the period. The conversion failed, but the host Warriors led 25-0 going into the second quarter.
Oaks finally scored with 1:32 left in the first half to cut its deficit to 25-8.
However, Webbers Falls had the last say in the first half as just 40 seconds after Oaks scored as Aiden Turley scored a touchdown. After Robinson scored the two-point conversion, Webbers Falls had a 33-8 halftime lead.
Gunner Shelby scored the first second-half TD for Webbers Falls, then Young hit the PAT, to increase the locals' advantage to 40-8 with 9:36 left in the third quarter.
After Robinson picked off an Oaks pass, Webbers Falls cashed that takeaway into a Dakota Moore touchdown run. Young's extra point upped the Webbers Falls lead to 47-8 with 8:17 remaining in the period.
Moore then put the exclamation mark on the game as he not only picked off an Oaks pass, he capped the ensuing possession with a touchdown run with 4:48 left in the quarter. As soon as Moore scored his TD, the game ended at that point by the 45-point mercy rule.