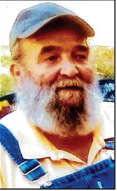 Obituaries
October 25, 2023
Elza Benton Smith
Nov. 3, 1957 – Oct. 20, 2023
Webbers Falls – Funeral services for Elza Benton Smith, 65, of Webbers Falls, will be held at 10 a.m. on Thursday, Oct. 26, 2023, at Agent Millsap Event Center in Gore. Burial will follow at Garden of Memories Cemetery in Vian, under the direction of Agent & Mallory Martin Funeral Home of Sallisaw.
Mr. Smith was born on Nov. 3, 1957, in Tahlequah to Noah Smith and Bessie Johnson Smith. He died on Oct. 20, 2023, in Fort Smith, Ark.
He was married to Roberta Adams Smith on July 3, 1982, in Gore.
He worked in road construction as a heavy equipment operator and was of the Pentecostal faith.
Survivors are his wife, Roberta, of the home; two daughters, Amber Smith of Webbers Falls and Robbie Shade of Warner; four sons, Noah Smith of Muskogee, Elza Smith Jr. of Webbers Falls, and Jacob Smith and Jeffrey Smith, both of Fort Smith; five grandchildren; one great-granddaughter; one brother, RB Smith of Mulberry, Ark.; and several other relatives and friends.
He was preceded in death by his parents; seven sisters, Del Marie, Georgie, Ruby, Savannah, Verlita, Nola and Fannie; and seven brothers, Johnny, Frank, Emery, LG, Willie, Floyd and Homer.
Viewing will be from 1 to 8 p.m. Wednesday at the Agent Millsap Event Center in Gore.