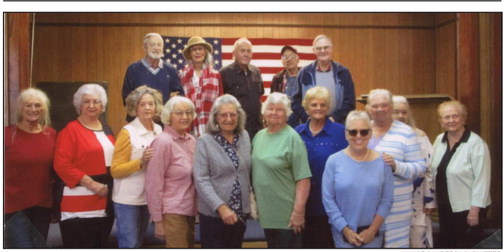 McKey Grade School holds 28th reunion
The old McKey Grade School building held its 83rd birthday on Oct. 7, 2023.
The 28th Alumni Reunion enjoyed a beautiful fall day going down memory lane, sharing pictures and greeting old school friends.
A special "thank you memory" to our late teacher, Jessie Lowery, for wishing to see students once again in 1985.
That wish became a reality, as we've remet McKey Alumni and their families. We've written 150 years of McKey history in two books, and placed in former students' homes. McKey Community history dates back to 1885. McKey, Oklahoma, is still on Oklahoma maps.
The old school, tworoom house laid our life foundations with reading, writing and arithmetic.
The old McKey WPA building didn't die in 1962 when the school moved to Sallisaw Schools. It became the McKey Community Building for church, elections, family and school reunions, weddings, birthdays and baby showers, funerals, cake walks, and bake and yard sales.
A short program coordinated by Janice Blount Sanders and Jackie Snow Pop was opened by Wayne Dial leading the group in the American flag salute.
Our oldest alumni attending was Betty Covington Holt, age 88, who still mows her lawn with a Snapper riding mower. Our next eldest was Ora Lee Dobbs Kirk, who said she's "too old to tell," which made the group chuckle.
Our youngest alumni was Karen Thomason Mathis, age 71, Linda Adams Bruton, age 72, and Loretta Covington Carson, age 71.
William and Jan Covington traveled the farthest from Union City, Calif. They love to drive and get to visit their families and friends.
McKey Alumni that faced death in 2023 were Billy Ray Jones, Doyle Green and Thelma Covington Dodd. Since 1985, we have lost 192 classmates to death. Oh, what joy, we got to see and visit them attending McKey Reunions. According to our address book, we still have 48 McKey School Alumni living.
We've decided we're playing a "new game" at McKey, "Wait and see who's the last one standing."
We are also praying for the next generation, our children and grandchildren, to fill our footsteps and take care of this beautiful historic school landmark.
The alumni shared testimonies of their lives.
The reunion photo was taken on the school stage in front of the American flag. Jackie Snow Pop shared a blessing prayer for lunch and safe travels home. Visiting and a bountiful butfet lunch was enjoyed by all.
Alumni attending were: William and Jan Covington of Union City, Calif.; Linda Adams Bruton of Tulsa; Wayne Dial of Muskogee; Robert and Dorcas Lunkenbill of Choteau; Ruby Kight Roark of Checotah; Danny Honeycutt of Roland; Doris Honeycutt McDaniel of Muldrow; Karen Thomason Mathis, Ora Lee Dobbs Kirk and granddaughter Lauren Shores, Mary Thomason, Gelene Dotson and Janice Blount Sanders, all of Vian; and Betty Covington Holt, Olen and Loretta Covington Carson, Maggie Covington Ramm, Barbara Taylor Maddox, Dwight James, Loretta Taylor Reed and Jackie Snow Pop, all of Sallisaw.
Unable to attend but called, were Leon Petree, Randy Edgmon,