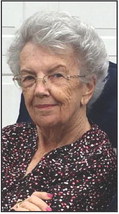 Donna Kay Breedlove Russell
July 24, 1938 – July 5, 2023
Muldrow – Memorial services for Donna Kay (Breedlove) Russell, 84, of Muldrow, were at 10 a.m. Monday, July 10, 2023, at Agent Mallory Martin Chapel in Muldrow. Mrs. Russell was born on July 24, 1938 in Muldrow, to Mattie (Johnston) Breedlove and Walton Dave Breedlove, Jr. She died on Wednesday, July 5, 2023, in Muldrow.
She was married to Leonard "Chang" Russell on June 8, 1955, in Van Buren, Ark.
She was former Treasurer for the City of Muldrow and later worked as a floor supervisor for the Choctaw and Cherokee Casino. She loved to play bingo, listen to old country music, shopping and traveling.
Survivors are her husband, Leonard "Chang" Russell of the home; three daughters, Paula Strong of Muldrow, Karen Hawkins and Tom of Lake Tenkiller, and Kathy Jane Russell of Roland; three sons, Ronnie Russell, Wayne Russell and Kendall Russell, all of Muldrow; eight grandchildren; 13 greatgrandchildren; two sisters, Carolyn Walker of Texas and Louise Williams of Muldrow; and two brothers, Charles Breedlove of Muldrow and Owen Breedlove of Bokoshe.
She was preceded in death by her parents; three brothers, Jim, John and Bill Breedlove; one granddaughter, Jennifer Johnson; son-in-law, Joseph Strong; and sister-in-law, Jackie Breedlove.