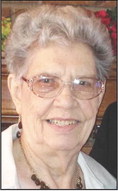 Eldee Ford Miller
July 31, 1927 – July 2, 2023
Republic, Mo. – Funeral services for Eldee Ford Miller, 95, of Republic, Mo., formerly of Sallisaw, were at 11 a.m. Saturday, July 8, 2023, at the Agent & Mallory-Martin Funeral Home.
Mrs. Miller was born on July 31, 1927, in Marble City to William Emerson Ford and Clara Elizabeth (Perry) Ford. She died on Sunday, July 2, 2023, in Republic.
She was a 1945 graduate of Sallisaw High School. She worked as a waitress at several locations, as well as the Muskogee High School cafeteria. She was a member at Muskogee Baptist Church and was WMU director for the Muskogee Baptist Association for years. She enjoyed sewing, making quilts, fishing and an occasional motorcycle ride.
She married Freeman Turner Miller on July 10, 1954, in Wagoner.
Survivors include her husband, Freeman Miller of the home; one daughter, Kathy and David Jackson of Republic; one sister, Sue and Robert Suttle; three brothers, William and Linda Ford, Clifton and Gloria Ford and Johnnie Ford; two sisters-in-law, Geneva and Janice Ford; one brother-in-law, Curtis Stephens; one grandchild; two great-grandchildren; and other family members and friends.
She was preceded in death by her parents; twin brother, E.B. Ford; brothers, Wyatt and Ronnie Ford; sisters, Betty Jo Sanders, Berniece Wilkins and Doy, and Sylvia Stephens; and sister-in-law, Merry Gayle Ford.
Pallbearers were Devin Pritchard, Cana Hall, Matt Dill, Kurt Stephens, Ryan Dockery and Brian Ford.