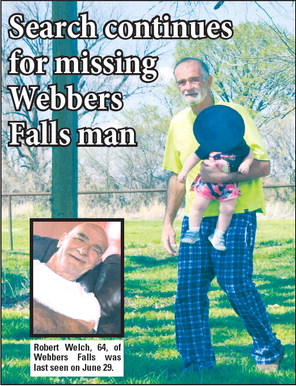 Search continues for missing Webbers Falls man
Authorities are continuing to search for a Webbers Falls man who was last seen on June 29, according to a Silver Alert issued by the Muskogee County Sheriff 's Office.
Robert Welch, 64, was last seen around 4 p.m. just south of his residence near 150th and 183rd in Webbers Falls, which is reportedly located between fields and Love's truck stop near Interstate-40.
He was wearing a neon yellow shirt, blue plaid flannel and jeans at the time of his disappearance. Family members said they are concerned for his safety, especially with the past week's soaring temperatures.
According to reports, Welch has dementia and could become agitated, and possibly left the area on foot. He is described as a white male, 6'1, 190 lbs., blue eyes and bald.
Social media posts indicated Welch was possibly seen in the Moonshine Road area between Vian and Gore, and another sighting was allegedly reported near Sallisaw, but Sequoyah County Sheriff Larry Lane Jr. said Thursday morning that his office has not received any confirmed sightings of Welch.
"We've had some of our county fire departments out assisting with the search, though," Sheriff Lane said.
Anyone with information regarding Welch's disappearance or whereabouts is asked to call 911 or contact local authorities.