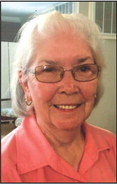 Susie (Jones) Pendergrass
Jan. 12, 1946 – July 2, 2023
Nicut – Graveside service for Susie (Jones) Pendergrass, 77, of Nicut were at 2 p.m. Saturday, July 8, 2023, at Sabot Cemetery at Muldrow, under the direction of Agent & Mallory Martin Funeral Service, Inc.
Mrs. Pendergrass was born on January 12, 1946, in Nicut to Dallas Jones and Aileen (Nelson) Jones. She died on July 2, 2023, in Fort Smith, Ark.
She was married to Jerry Keith Pendergrass on October 30, 1965, in Muldrow. He preceded her in death on June 7, 2019.
She was a cook at Belfonte Public Schools and of the Baptist faith.
Survivors are a daughter, Felicia Harl of Nicut; son, Jerry Keith Pendergrass, Jr. and Delana of Roland; two grandchildren; five great-grandchildren; one sister, Judy Thompson of Eufaula; two brothers, Dallas Jones, Jr. of Sallisaw and Stacey Jones of Kansas; and several other family members and friends.
She was also preceded in death by her parents; and three brothers, Freddie Jones, Tony Jones and Jackie Jones.
Pallbearers were Terry Pendergrass, Kyle Pendergrass, Tom Rogers, Blake Terrill, Clay Conley and Lyndon Emberton.
Honorary pallbearers were Bob Anglen, Tommy Hoover, Herbert Barnes and James Nelson.