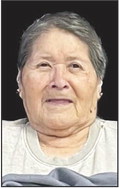 Wanda Lee Girty
April 21, 1937 – June 29, 2023
Vian – Funeral services for Wanda Lee Girty, 86, of Vian, were at 10 a.m. Monday, July 3, 2023, at Agent & Mallory-Martin Chapel in Sallisaw. Burial was at Redbird Smith Cemetery in Vian under the direction of Agent & Mallory-Martin Funeral Home.
Mrs. Girty was born on April 21, 1937, in Qualls to William Washington and Jennie (Sequichie) Washington. She died on Thursday, June 29, 2023, in Vian.
She was a teacher for Cherokee Nation Adult Education.
Survivors include six daughters, Susan M. Adair, Peggy S. and George Flute, Linda J. Girty, and Joan M. and Gregory Murphy, all of Vian, Brenda L. Harvell of Gans, and Elizabeth and Donald Jones of Sallisaw; one son, John E. Girty Jr. of Vian; one sister, Rachel Girty of Tahlequah; 18 grandchildren; 49 great-grandchildren; four great-great-grandchildren; and other family members and friends.
She was preceded in death by her parents; husband, John E. Girty Sr.; three sisters, Emma Washington, Nora Washington and Lily Washington Waterdown; one brother, Raymond Washington; and a granddaughter.
Pallbearers were Stone Girty, Jeremiah Caves, Jacob Caves, Martin Morris, Derrick Morris, Stevie Morris Jr., Frank Girty and Adam Fisher.