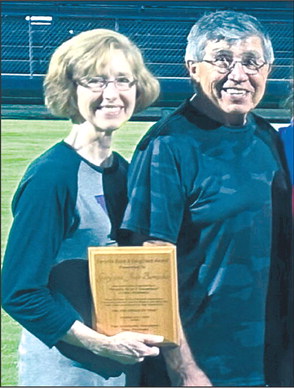 Favorite Sons and Daughters: Gary and Joan Barnoskie
Gary and Joan Barnoskie were recipients of this year's Vian Favorite Sons and Daughters awards.
Gary is a 1971 Vian High School graduate. During his high school football career he played in the State Finals, made the All State football team and was offered a football scholarship to the University of Oklahoma, where he earned a Bachelor's Degree in Business.
While living in Norman, he met Joan Pingleton, a Home Economics major at OU, and a year later they were married.
The couple returned to Vian in 1981 at which time Gary obtained a teaching certificate in physical education and earned a Master's Degree in Guidance and Counseling. Gary's career in education spanned across Marble City, Vian and finally Woodall Schools, while Joan remained at Vian Public Schools in Early Childhood Education as "Miss Joan" until retirement.
Gary and Joan have lived a life blessed by God, who has been infinitely gracious, in Evening Shade for 42 years and raised two sons, Isaac and Jonathan, of whom they are immensely proud. Added to their pride is their daughter-in-law, Courtney, and granddaughter, Brynn, 13.
The couple can be seen helping maintain the walking trails at Vian City Lake along with Isaac, as well as helping with Isaac's Vian Trail System events. They have spent years lovingly mowing and caring for the Barnoskie Cemetery on Evening Shade, and can be found cheerfully greeting people at The Crossing Church. They're continuing their lifetime of fun and fitness riding their bicycles.