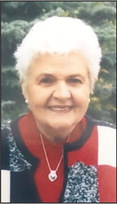 Joyce Ann Pedersen Moore
Aug. 7, 1936 – June 24, 2023
Muldrow – Memorial services for Joyce Ann Pedersen Moore, 86, of Muldrow, will be at 10 a.m. on Saturday, July 22, 2023, at Trinity Methodist Church in Muldrow. Burial of cremains will follow at Akins Cemetery in Sallisaw, under the direction of Agent Mallory Martin Funeral Service, Inc.
She was born on August 7, 1936, in Monticello, Iowa to Genrose (Wolfe) Pedersen and Kenneth Andrew "Skinny" Pedersen. She passed away on Saturday, June 24, 2023, in Sallisaw.
She was married to John Patrick "Jack" Moore, Jr. on June 1, 1957, in Cascade, Iowa. He preceded her in death on Feb. 3, 1985.
She was a lifelong champion for children and their welfare. She worked for court related community services and was handpicked by several Oklahoma State Lawmakers and Judicial officials. She worked diligently for the Oklahoma State Boys Home.
Survivors are six sons, John Patrick Moore, III of Arkansas, Kenneth Andrew Moore and Debra of Sallisaw, David Joseph Moore and Kim of Cascade, Scott William Moore, Sr. and Terry of Summerville, S.C., Jeffrey Jude Moore and Lisa of Muldrow and Joseph Michael Moore of Muldrow; 20 grandchildren and numerous great-grandchildren and greatgreat-grandchildren; and several other relatives and friends.
She was preceded in death by her husband; one granddaughter; parents; and one daughter-in-law, Jolene.