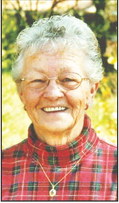 Marilyn June Reese
Sept. 9, 1940 – July 9, 2023
Sallisaw – Funeral services for Marilyn June Reese, 82, of Sallisaw, were held at 1 p.m. Wednesday, July 12, 2023, at the Agent & Mallory-Martin Chapel in Sallisaw. Burial was at Sallisaw City Cemetery under the direction of Agent & Mallory-Martin Funeral Home.
Mrs. Reese was born on Sept. 9, 1940, in Sallisaw to James Edward Harden and Opal Juanita (Riggs) Harden. She died on Sunday, July 9, 2023, in Sallisaw.
She was a homemaker and of the Baptist faith. Survivors include four sons, Kenny Reese and Mark Reese, both of Sallisaw, Leroy and Tina Reese of Louisiana, and Chriss and Amy Reese of Brewers Bend; four sisters, Barbara Enyart, Martha Ely, Joan Harden and Eva Boyd, all of Sallisaw; one brother, Ike Harden of Sallisaw; seven grandchildren; eight great-grandchildren; and other family members and friends.
She was preceded in death by her parents; and one brother, Jimmy Harden.
Pallbearers were Bobby Reese, Blake Reese, Everett Reese and Garrison Reese.