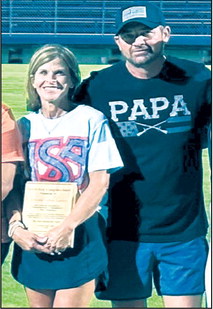 Main, news
August 2, 2023
Vian's Favorite Son and Daughter: Steve and Camille Carlton
Steve and Camille Carlton were chosen as recipients of Vian's Favorite Son and Daughter for 2023.
Camille is originally from Texas but followed the love of her life, Steve, to Vian, Okla. In Vian, they have set down their roots, had five children and are currently (and excitingly) expecting their ninth grandchild in November.
Camille graduated high school from Nevada, Texas in 1989 and worked her way through an Associates Degree in Child Development. She and Steve met in 1993 and have been side by side ever since.
Camille is one of the most unselfish people in town and has a knack for seeing a need, whether with children or the community. She never misses a chance to help a child, football and other athletic teams, or school children in general. Many, many children appreciate and notice Camille's true love of helping mold our town's youth through adulthood. Many of the children who attended their daycare have and currently are employed by their business today.
Steve graduated Vian High School in 1990 and immediately entered the Marine Corp., serving from 1991-95. After discharge, he joined the National Guard and continued to serve his country until 1999. After final discharge, he worked for seven years in Muskogee at Fort Howard, now know as Georgia Pacific. He is currently employed with Kansas City Railroad and is on his 20th year of employment with the railroad.
They are the proud owners of Camille's Kidz learning center and have been for the last 23 years. They pride themselves on the well-being of each and every child.
Both can be found cooking or grilling for the football teams or buying Subway sandwiches or care packages on any given week. They both are undoubtedly some of the most kindhearted people.
All five of Steve and Camille's children completed their education at Vian High School, having been the third generation to have gone to school at Vian.
We're forever grateful they decided to raise their family and found their way back to Vian!