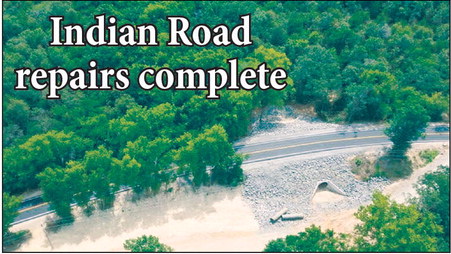 Main, news
August 9, 2023
Indian Road repairs complete
The Sequoyah County Commissioners were told last Monday at their weekly meeting that emergency repairs to Indian Road were nearing completion. By Thursday, District 2 Commissioner Beau Burlison confirmed that emergency repairs to the critical traffic artery have been completed.
The road reopened at 7 a.m. Monday.
Indian Road had been closed since May 5, 2022, when the northwestern area of Sequoyah County received 7 to 10 inches of rainfall in a short period of time.
The overnight deluge caused two areas of Indian Road to completely wash out — one in Sequoyah County and one in Cherokee County. Along with the two washouts, there were two additional areas with substantial damage that required total reconstruction, again, one in Sequoyah County and one in Cherokee County.
Flooding from the downpour resulted in millions of dollars in damages throughout Eastern Oklahoma, but no federal disaster was declared, which meant no disaster recovery assistance funding for the area.
With no disaster funding, each county was responsible for securing its own reconstruction funds.
The cost to repair and reopen Indian Road was $3 million to $4 million. Sequoyah and Cherokee counties immediately began looking for alternate funding sources.
The board of commissioners for Sequoyah and Cherokee counties reached out to the Cherokee Nation Department of Transportation for assistance with the extensive project. Cherokee Nation DOT did not hesitate to respond, securing the funding and construction responsibilities for both complete washouts.
Although much of the financial burden was lifted, the two counties were still left without funding for additional areas that sustained substantial damage.
Burlison reached out to Cherokee Nation District 5 Councilman E.O. "Junior" Smith for support with reconstruction on the other areas severely damaged at that time. Smith provided a large amount of the funding needed for the project, with Sequoyah County District 2 responsible for the remaining costs. Cherokee County District 3 Commissioner Clif Hall also reached out to Cherokee County District 3 Councilman Wes Nofire for additional assistance.
Now, 15 months after the catastrophic event that severed a critical link to Tahlequah on the west and northwest sides of Lake Tenkiller, the two-lane highway has reopened.
"I understand that the last 460 days have been quite trying for local residents, commuters and businesses who were inconvenienced and negatively impacted by the temporary closing of Indian Road," Burlison said. "I greatly appreciate your patience. I personally would like to thank Chief Chuck Hoskin Jr., Deputy Chief Bryan Warner, Councilman Smith and the Cherokee Nation DOT for their immediate response to the needs of these repairs. I would also like to thank Commissioner Hall, Councilman Nofire, Circuit Engineering District #2, Robinson Construction and Bronze Oak Construction Company for bringing these projects to completion."
Burlison had previewed the completion of repairs at last Monday's meeting, telling his fellow commissioners that he was "excited to say that we are getting there."
"I just can't say how much I appreciate the effort that the Corps [of Engineers], Cherokee Nation, Sequoyah County, our commissioners board, just all the cooperation that we've got from all these different people and organizations," Burlison said at Monday's meeting before the reopening announcement on Thursday.
The commissioners also approved payment of $65,480.72 to Robinson Construction for the repairs.
In other action from Monday's meeting, vehicles were transferred between two county rural fire departments and funds were accepted on behalf of the county fire department tax board.
The commissioners also accepted $25,000 from the Cherokee Nation on behalf of the Sequoyah County Fire Department Tax Board. The funds are from a COVID-19 response grant, and will be used for the construction of a meeting/classroom facility located in the burn tower at 850 W. Eppler Road. The bid process to build the facility is currently underway.
The commissioners approved a re-grant application to the Rural Economic Action Plan (REAP) for Fiscal Year 2024 for District 3, and also renewed an annual standard rental service agreement between Cintas and Sequoyah County District 2.
The commissioners meet at 10 a.m. Mondays at the county courthouse.