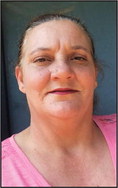 Obituaries
August 9, 2023
Jawana Hutchinson
Aug. 8, 1975 – Aug. 3, 2023
Vian – Jawana Hutchinson, 47, of Vian, passed away on Thursday, August 3, 2023, at Vian. She was born on August 8, 1975, in De Queen, Ark. to L.G. Armer and Eva Brandon Armer.
No formal service is being held at this time. Arrangements and cremation are under the direction of Agent Mallory Martin Funeral Service, Inc. of Sallisaw.
She was married to Steven Hutchinson in January 1995, in Fort Smith, Ark.
Mrs. Hutchinson was a homemaker. Survivors are her husband, Steven of the home; two sons, Joseph Hutchinson of Sallisaw and Joshua Hutchinson of Vian; one grandchild; one sister, April Armer of Vian; mother-in-law, Sheila Walker of Vian; and several nieces, nephews, cousins, other relatives and friends.
She was preceded in death by her parents; and one brother, L.G. Armer, Jr.