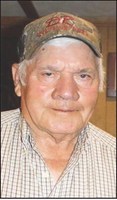 Obituaries
September 13, 2023
Billy Poindexter
March 4, 1938 – Sept. 2, 2023
Sallisaw – Funeral services for Billy Poindexter, 85, of Sallisaw, were held at 10 a.m. on Thursday, Sept. 7, 2023, at Agent Mallory Martin Chapel in Sallisaw. Burial followed at Sallisaw City Cemetery under the direction of Agent Mallory Martin Funeral Service, Inc.
HewasbornonMarch 4, 1938, in Brushy in Sequoyah County to Ethal (Honeycutt) Poindexter and Clinton Poindexter. He died on Saturday, Sept. 2, 2023, in Tahlequah.
He was married to Irene Cantrell on Dec. 24, 1959, in Sallisaw. She preceded him in death on Jan. 22, 2009.
He was a heavy equipment operator and a member of Pleasant Valley Baptist Church.
Survivors are two sons, Billy Don Poindexter and Heather of Mount Vernon, Wash., and Steven Poindexter of Coweta; one daughter, Pam Young and Glen of Vian; four grandchildren; eight greatgrandchildren; one sister, Effie L. Rankin of Tuttle; and many other family members and friends.
He was also preceded in death by his parents; five brothers, Bobby, Pauley, Watie, Elmar and Carl Poindexter; and three sisters, Liddie Branham, Carolyn Flute and Evelyn Sanders.
Pallbearers were Edward Poindexter, Bobby Poindexter, Glen Young, Parker Frederick, Kyle Cain and Mitchell Ellis.