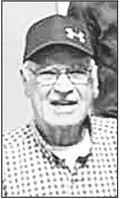 Obituaries
September 13, 2023
Carl Jr. Phillips
Aug. 31, 1942 – Sept. 1, 2023
Funeral services for Carl Jr. Phillips, 81, were held at 11 a.m. Saturday, Sept. 9, 2023, at Riverview Baptist Church in Bixby. Graveside interment services were held at 11 a.m. Monday, Sept. 11, 2023, at Akins Cemetery.
Mr. Phillips was born on Aug. 31, 1942, in Vian, to Carl Phillips and Pearlie Mae (Sallee) Phillips Brown. He died on Friday, Sept. 1, 2023, in Tulsa.
He was a 1960 graduate of Sallisaw High School and attended Northeastern State University in Tahlequah. He was a member of the Army National Guard from 1966 to 1972. He worked for IBM and then began a 30-year career with Sun Oil Company.
He married Linda Smith on Sept. 1, 1962, in Sallisaw.
Survivors are his wife of 61 years, Linda; two daughters, Shelli Renee Kilpatrick and husband Chris and Wendy Leigh Kinser and husband Brian; three grandchildren; along with several other relatives and friends.