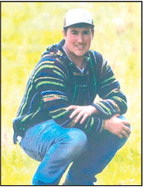 Webbers Falls teen perishes following Labor Day accident
An accident that happened on Labor Day on a rural road near Porum has reportedly claimed the life of a Webbers Falls teen.
According to the preliminary accident report, the incident took place around 11:20 a.m. on 253rd St and 135th St. South, about six miles east of Porum when a 2008 Chevrolet Tahoe crested a hill and collided with a fallen tree.
The Tahoe, driven by Hayden Pearce, 19, of Webbers Falls, was traveling eastbound on 253rd St. when the tree was struck, causing the vehicle to veer off the road to the right, where it struck another tree.
Pearce was admitted to St. John Hospital in Tulsa in stable condition with injuries to his head, internal organs, arms and legs. An updated collision report stated Pearce died on Sept. 5 due to massive injuries he sustained in the crash.
Pearces two passengers, Jordan Cole, 21, of Porum, was fortunate to escape the collision without any injuries, along with a juvenile passenger, who also emerged from the accident unharmed.
The incident was investigated by Trooper Woolsey #981 of the Wagoner/Muskogee County Detachment of Troop C, with assistance from Trooper Jamie Ritze #800 of the same detachment.
Trooper Woolsey reported none of the occupants in the vehicle had their seatbelts fastened at the time of the collision, and the primary cause of the accident was due to debris in the roadway.
Local authorities, including the Muskogee County Sheriff 's Office, Muskogee EMS and the Porum Fire Department, also responded to the scene.
Webbers Falls School extended their condolences to Pearce's family via social media. He was a 2023 graduate of Webbers Falls High School.
The school posted, "To accommodate our students and staff who wish to pay their respects to the family, our school day will be adjusted to meet this. A hybrid school day will be in place on Monday, Sept, 11. Students grades 7th – 12th will be on a virtual school day and will not attend school on campus. All lessons and assignments for each class 7th – 12th grade will be on Google Classroom and attendance will be taken and classwork can be done at their convenience. Students PK-6th will have a normal school day here on campus, busses will run as normal and our after school program will be held. Any elementary student that wishes to attend the funeral will be excused."
Pearce's family described him as "a warm light to everyone who knew him. If one word described Hayden it was "kind." He was a friend to everyone and always lent a helping hand when needed. He was a hard worker, honest, and a loving soul."
Hayden's family said they would like to thank everyone for the outpouring of calls, texts, visits, condolences, and donations, stating, "It means the world to see the love shown for our sweet Hayden."
A complete obituary for Pearce can be found on page 2 of this issue.