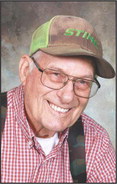 Obituaries
September 20, 2023
Joseph Edward Holt
Sept. 2, 1939 – Sept. 11, 2023
Sallisaw – Joseph Edward Holt, 84, of Sallisaw, died on Monday, Sept. 11, 2023, in Sallisaw. He was born on Sept. 2, 1939, in Foreman, Ark., to Benjamin Harrison Chesshire and Lucile (Holt) Brown.
No formal service is planned at this time. Cremation is under the direction of Agent & Mallory-Martin Funeral Home.
He was a graphic designer at Louisiana State University Medical Center in Shreveport, La.
He married Iza Burnett on Feb. 2, 1980, in Bossier City, La.
Survivors include his wife, Iza Holt of the home; three daughters, Patricia and Kenneth Smith of Sallisaw, Cynthia Rankins of Mulberry, Ark. and Donna Moore of Frierson, La.; one sister, Jenny Harsel of Atlanta, Texas; 12 grandchildren; numerous great-grandchildren; and other family members and friends.
He was preceded in death by stepchildren, Jack and Jerry Upton; four brothers, William Howard McDowell, Arthur Franklin McDowell, James Leon Brown Jr. and Henry Earl McDowell; and one sister, Maylo Hamen.