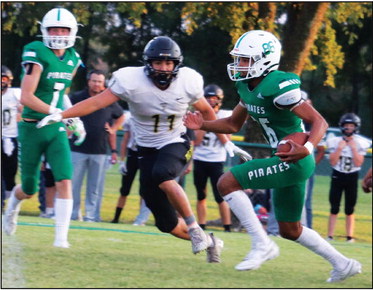 sports
September 27, 2023
Gore Pirates win District A-8 opener over Talihina
It took a little bit of a wake-up call, but once the Gore Pirates got going, they never looked back.
After falling behind 6-0 in the first quarter, the Pirates scored the game's next 44 points to end up routing the Talihina Golden Tigers 51-12 in the District A-8 opener Friday night at K.G. Horn Stadium.
Trailing 6-0 after the Golden Tigers (2-2 overall, 0-1 in district play), returning to the gridiron this season for the first time since 2021, scored on a drive set up by a fumble, the Pirates (4-0, 1-0) got the wakeup call needed.
Baldwin McCartney scored on a 16-yard touchdown run and a successful two-point conversion and Tate Brooksher sneaked it in from a yard out, then hit Journey Shells on the two-point conversion, for a 16-6 lead for Gore after the first quarter.
McCartney scored his second TD of the game and Luis Schyktanz hit the extra point for a 23-6 lead with 5:31 left before halftime.
Then, the Pirates' defense got in on the scoring as just 13 seconds later Ayden Cox returned a pick-6 for 23 yards and a touchdown. Schyktanz's PAT upped Gore's advantage to 30-6 with 5:18 remaining in the first half.
Thanks to Hunter McGee's INT 17 seconds later, the Pirates cashed in on the takeaway with Brooksher connecting with McGee on a 29-yard TD pass with 2:23 left in the first half. Schyktanz's extra point put Gore up 37-6 at the half.
It only took the Pirates 20 seconds into the third quarter to score once more as Brooksher hit Shells on a 28-yard touchdown pass. Schyktanz's PAT increased the local's lead to 44-6 with 11:40 left in the period.
After Talihina scored its final touchdown of the night, the Pirates scored their final TD on McGee's second touchdown of the night, and first rushing TD, as he took it to paydirt from five yards out. Schyktanz's extra point made it 51-12 after three quarters.
There was no scoring in the final period, in which the clock ran continuously.
"We started off slow," Gore coach Brandon Ellis said. "We started off with a turnover, and they go down and score. It was a reality check. Once we settled down, and we played our football, it was fun."
The win currently put the Pirates in a tie for the top spot in the district standings.
"I stressed it this week about how we haven't won anything yet," Ellis said. "Districts started (Friday) night. Everybody was zeros across the board. It was great to get a district win. Now, we're 1-0 (in district play). Now, we're going to look to go 2-0 (this Friday night on the road against Canadian)."