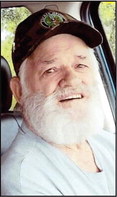 Obituaries
September 27, 2023
James Weldon Roberts
May 25, 1943 – Sept. 19, 2023
Blackgum – Graveside service for James Weldon Roberts, 80, of Blackgum, was held at 11 a.m. Thursday, Sept. 21, 2023, at White Cemetery in Gore under the direction of Agent & Mallory-Martin Funeral Home.
Mr. Roberts was born on May 25, 1943, in Coolidge, Ariz., to Elbern Oren Roberts and Fannie Louise (Jackson) Roberts. He died on Tuesday, Sept. 19, 2023, in Fort Smith, Ark.
He was a painter, a veteran of the U.S. Army and of the Baptist faith.
He married Evelyn Byrum on Dec. 22, 1964, in Phoenix. She preceded him in death on Sept. 11, 2013.
Survivors include one son, Evan and Timberly Roberts of Blackgum; five daughters, Brenda Roberts of Coolidge, Beverly Wooten of Bellville, Ark., Carolyn and Chad Pule of Oahu, Hawaii, Amber Roberts of Sallisaw and Linda and Russell Goswick of Blackgum; 10 grandchildren; 10 great-grandchildren and one on the way; and other family members and friends.
He was also preceded in death by his parents. Pallbearers were Russell Goswick, Derrick Fieldgrove, Steve Radford, John Carter, David Clayton and Joshua M. Pack.