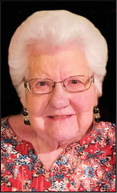 Obituaries
September 27, 2023
Peggy Louise (Hutton) Young
Jan. 21, 1933-Sept. 18, 2023
Vian – Funeral service for Peggy Louise (Hutton) Young, 90, of Vian, Okla. was at 10 a.m. on Monday, Sept. 25, 2023, at Vian Baptist Church in Vian. Burial followed at Garden of Memories Cemetery in Vian, under the direction of Agent Mallory Martin Funeral Service, Inc.
She was born on Jan. 21, 1933 in Frederick, Okla., to Minnie Irene (Parrot) Hutton and James Augustus Hutton and passed away on Sept. 18, 2023 in Catoosa, Okla. She attended school in Frederick, 1st grade to 11th grade, until she married the love of her life, William Thomas "Bill Tom" Young on March 31, 1950 in Lawton, Okla.
She traveled with Bill Tom and their oldest two boys until it was time for them to start school. They settled on 20 acres near PinHook Corner/Vian. Together they raised four children; three sons, James Austin, Roy Allen and Lesley Ray and one daughter, Tina Lynn, all graduating from Vian High School.
When her oldest son started college, she decided to further her education and join him at Northeastern State University. She graduated with her Bachelors in Education and went on to receive her Masters Degree. She was a teacher and a shaper of minds for one year at Rudy, Ark. and 23 years at Roland, Okla. She was also a filler of the belly by cooking at three different church campuses as well as for her family and friends.
Survivors are three sons, James Austin Young and Kathy of Stilwell, Okla., Roy Young and Lela of Chelsea, Okla., and Lesley Young and Donna of Catoosa, Okla; one daughter, Tina Young and Sam Rochelle of Irving, Tex.; grandchildren, Elizabeth and Ralph Shaffer, Jamie and Bryan Duncan, Amanda and Adam Story, Hunter Young, Matthu and Alicia Young, Mark Young, Amy Young, Amanda and Andreas Werner, Blake and Jenni Young, and Akela Megan and Zack White; three bonus grandchildren, Shaquille and Ashton Duncan, Karley and Brent Girdner, and Kristen Roberts; four siblings, Morris and Sandy Hutton of Gainsville, Tex., Doris Rana of Roanoke, Tex., Norma Wood of Frederick, Okla., and James and Marilyn Hutton Frederick; and several other relatives and friends.
She was preceded in death by her husband of 44 years; her parents; grandparents; and one brother, Homer Hutton.
Active Pallbearers were Blake Young, Matthu Young, Mark Young, Ralph Shaffer, Andreas Werner, Zackery White and Adam Story.
Viewing was from noon – 8 p.m. Friday, 10 a.m. – 6 p.m. Saturday and 2 – 8 p.m. Sunday at Agent Mallory Martin Funeral Home in Sallisaw, where the family greeted from 3-5 p.m. on Sunday.