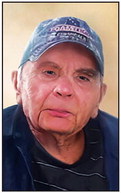 Obituaries
October 4, 2023
Joe Webster
Oct. 8, 1930-Sept. 18, 2023
Elk City – Memorial service for Joe Webster, 92, of Elk City, was held at 10 a.m. Saturday, Sept. 30, 2023, at the Agent-Millsap Event Center in Gore, with Rev. Carl Reeves officiating.
Mr. Webster was born on Oct. 8, 1930, in Miami, Okla. to Bill Webster and Ella Webster (Stroup). He died on Sept. 18, 2023.
Survivors are his children, Brenda Sloan and husband Andy, and Lennie Webster, all of Elk City, and Bill Webster of Guthrie.
Arrangements were under the direction of Lescher-Millsap Funeral Home.