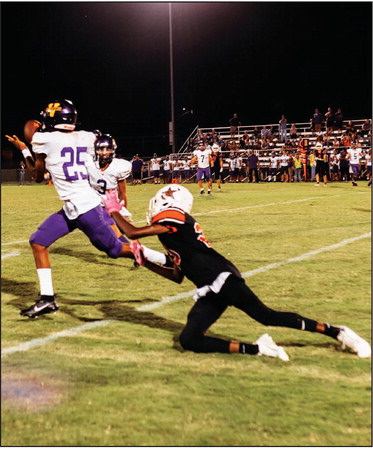 Vian Wolverines claw Roland Rangers in countywide district contest
The Roland Rangers hung with the Vian Wolverines in Friday night's District 2A-5 contest at Ranger Stadium for a quarter, but from there it was all Wolverines.
Vian scored 23 points in the second quarter and 27 points in the third period as the Wolverines ended up winning 64-0.
The Wolverines (3-2 overall, 2-0 in district play) broke the scoreless deadlock on Masyn Wright's 2-yard touchdown run on fourth down with 6:16 left in the first quarter. Tyrick Mosley's extra point put Vian ahead 7-0 entering the second period.
Draighton Fletcher scored two of Vian's second quarter TDs on runs of 6 and 55 yards — the latter coming right after the Rangers (1-3, 0-2) turned the ball over on downs at the Vian 45, with Fletcher's 55-yard touchdown run scoring on the next play.
In between Fletcher's TDs, Wright scored his second touchdown of the first half on a 7-yard run. Mosley kicked the PAT after Fletcher's first score, then Wright ran in two-point conversions on the other two scores as the Wolverines enjoyed a 30-0 lead at halftime.
Vian scored four touchdowns in the third quarter, three of them by Wright on runs of 42, 60 and 18 yards. Wright's third TD was set up by an interception by Dante Glass, who returned the pick 21 yards to the Roland 45, to set up the four-play drive that was culminated by Wright's 18-yard touchdown run. The other third quarter TD was on a 38-yard touchdown run by Riley Ellis with 50 seconds left in the period. Mosley hit three of the four extra points in the quarter, which saw Vian take a 57-0 lead into the final period.
The game's final score came with 3:30 left in the contest as Kaden Fulbright scored on a 21-yard touchdown run. Mosley hit the PAT.
For the game, Wright rushed for 184 yards and scored five TDs, Fletcher had 136 rushing yards and scored two touchdowns and Ellis rushed for 114 yards and a touchdown.
In defeat, Ashton Peters had 40 yards rushing, Dalton Crossno had 38 yards passing and Logan Lorenz caught two passes for 13 yards.