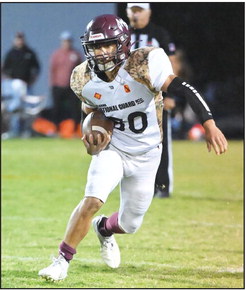 Outmanned Webbers Falls Warriors lose District B-5 opener to Dewar
DEWAR — Due to three players not able to play due to being ejected in the previous game two weeks before against Cave Springs, an outmanned Webbers Falls Warriors football team were mercy ruled in its District B-5 opener against the Dewar Dragons, who won 46-0 in a game called in the third quarter due to the mercy rule.
The Dragons (6-0, 1-0 in district play) had a 22-0 lead after a quarter and a 40-0 halftime advantage. With 10:24 left in the third quarter, Dewar scored a touchdown, and did not have to attempt the conversion as the mercy rule kicked in.
The Warriors dropped to 5-1 overall and 0-1 in district play.