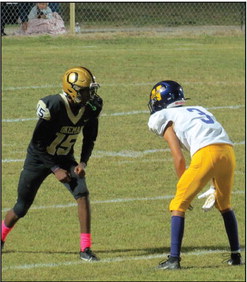 Vian Wolverines tame Okemah Panthers on Friday night, entertain Henryetta on Thursday night
OKEMAH — The Vian Wolverines won for the third straight week as they picked up a District 2A-5 road victory by the score of 4114 over the host Okemah Panthers.
The Wolverines (4-2 overall, 3-0 in district play) scored twice in the opening quarter. Jacob Brannick. Brannick's 10-yard touchdown run, followed by Masyn Wright's two-point conversion run, put Vian ahead 8-0 with 10:21 left in the first period.
Draighton Fletcher's 2-yard TD run with 5:40 left in the quarter upped Vian's advantage to 14-0 after a period.
After the Panthers (1-5, 0-3) cut their deficit to 14-6 with 6:27 left before halftime, Brannick caught a 38-yard touchdown pass from Wright with 23 seconds remaining in the first half. Mikayah Mendoza's extra point put the Wolverines ahead 21-6 at halftime.
The Wolverines scored twice in the third quarter to pretty much seal the deal. Wright scored on a 2-yard TD run with 7:28 left in the period, followed by Fletcher's second touchdown run of the night on a 1-yard plunge at the 4:14 mark. Mendoza hit the PAT after Wright's score to give Vian a 34-6 lead going into the fourth quarter.
Riley Ellis capped the scoring on the night for the Wolverines on a 20yard TD run. Mendoza's extra point upped Vian's advantage to 41-6 with 8:06 left to play.
For the game, Fletcher rushed for 86 yards and two touchdowns, Wright had 51 yards rushing and a TD and Riley Ellis rushed for 43 yards and a touchdown. All total, Vian had 253 yards of offense, as compared to Okemah's 145.
The Wolverines will have a short week this week as they will entertain the Henryetta Black Knights at 7 p.m. Thursday at St. John Stadium.