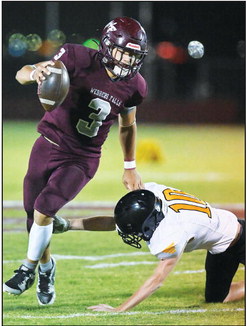 Webbers Falls Warriors celebrate homecoming by routing Midway, visit Porum on Thursday night
The Webbers Falls Warriors got back on track Friday night thanks to being at full strength as they routed the Midway Chargers 56-8 at Smokey Cox Stadium to celebrate homecoming.
The Warriors (61, 1-1 in District B-5 play) broke the scoreless deadlock on Maddux Shelby's touchdown run and Aiden Turley's twopoint conversion for an 8-0 lead with 11:05 left in the first quarter.
After an interception by Brutus Robinson, the Warriors cashed the takeaway into points as Shelby scored his second TD on the following play, followed by Dylan Young's extra point, for a 15-0 advantage with 8:31 remaining in the period.
On Webbers Falls' next possession, the Warriors cashed in the drive with Dakota Moore's touchdown run to up the lead to 21-0 with 5:56 left in the quarter.
After the Chargers (07, 0-2) turned the ball over on downs, the Warriors needed just 45 seconds to dent the scoreboard once more as Shelby scored his third TD of the quarter with 3:10 remaining in the period. Spencer Thao's PAT increased the advantage to 28-0 after the opening quarter.
Braydan Robinson got in on the TD parade as he scored with 5:14 remaining before halftime. Thao's extra point increased the Webbers Falls lead to 35-0 at halftime.
After the Chargers turned the ball over on downs for the fifth time in the contest, Zane Nolan ended the ensuing possession with a touchdown run. Thao's PAT put Webbers Falls ahead 42-0 with 5:01 left in the third quarter.
The Chargers scored their lone TD with 33 seconds left in the period to cut the deficit to 42-8.
On the final play of the quarter, Shelby scored his fourth touchdown of the game. He then scored the twopoint conversion for a 50-8 lead after three quarters.
After Midway turned the ball over on downs for the sixth time, Thao ended the game on a touchdown run with 8:37 left to play to get the game to mercy-rule status and end the game without a conversion attempt needed. The Warriors will travel to meet the Porum Panthers at 7 p.m. Thursday.
To Get There — Take Interstate 40 west to Warner. Take Oklahoma State Highway 2 south to Porum.