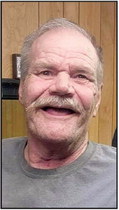 Obituaries
October 25, 2023
Danny Lee King
Dec. 31, 1953-Oct. 15, 2023
Sallisaw – Danny Lee King, 69, of Sallisaw, died on Sunday, Oct. 15, 2023, in Stilwell. He was born on Dec. 31, 1953, in Bakersfield, Calif., to Jimmy King Jr. and Lela Mae (Gothard) Tootle.
No formal service is planned at this time. Cremation is under the direction of Agent & Mallory-Martin Funeral Home.
He was a farmer. Survivors include one daughter, Dawn King-Eppler of Bakersfield; one son, Danny King Jr. of California; three sisters, Louise Roberts and Marie Horn both of Bakersfield and Marlene Rhoades of Sallisaw; two brothers, David King and Donald King both of Sallisaw; several grandchildren; and other family members and friends.
He was preceded in death by his parents; companion, Sharon Horn; and one sister, Genevieve Clarice Tootle.