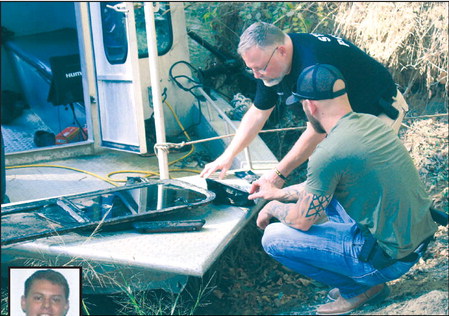 Divers search creek for Adams
Chris Adams waited all day last Wednesday to see what divers might recover from Dirty Creek, south of Webbers Falls, hoping it might be the truck belonging to his brother Stephan M. Adams, an NSU student who went missing 19 years ago.
Adams was not alone. Others who had gathered included friends and supporters of the Adams family, representatives from the District 27 District Attorney's Office, REVAMP (Remember Every Victim & Missing Persons) and Arkansas Missing Come Home, along with "Chaos Divers" from Illinois, and two other divers who volunteered to find missing persons from Georgia and Washington State.
"We have a total of four divers today who have come out," Patti Rush, a representative for REVAMP, which is a network of volunteers who make up the organization to find missing "loved ones," said.
Divers, who included Jacob and Lindsay Bussick of Chaos Divers, Britain Lockhart who is with the Depths of History in Atlanta, Ga., and Corey Cooper with Coopers Amputee Lifestyle from Washington State, launched their boats at Gore Landing shortly after 11:30 a.m. last Wednesday. However, they did not reach their destination to Dirty Creek for several hours due to low water ways and other obstacles which slowed them down, Lindsay Bussick, of Chaos Divers, said.
Once the diving began, it did not take long to find one of the vehicles in the mirky waters known as Dirty Creek.
Cooper was able to locate a pickup and retrieved a piece of the window from a camper. He went back in and was able to find an old registration wallet.
Eric Helms, investigator for the District Attorney's Office for District 27, looked up some of the numbers and confirmed the pickup was a 1994 or 1995 Nissan.
"The divers do not come back without bringing anything with them," Bussick said.
"We always try to find identifying marks such as a license plate, emblems such as the make of the car, a headlight, taillight, mirrors. All these things come with numbers that can help us identify what kind of vehicle is down there," she said.
"We have between 700 to 800 cars from all over, including Iowa being the furthest, Texas from west coast to the east. We've recovered about 200 and brought loved ones home," Bussick said.
Rush said last Thursday, that divers had recovered four vehicles.
"None of them belonged to Stephan Adams but we have one more place to look," she said. "We will continue to look at every available opportunity. This is what we do. If we don't find their vehicle, we can at least rule that out and that's good, too."
Rush said Adams is not the only cold case the organization is looking into.
"We're pretty busy in Sequoyah County. There are some cases which would be easy to solve and we're doing what we can to look into all of them," she said.
Adams said he was not disappointed the vehicle which was dove for did not belong to his brother.
"It's a step. It's a process I know. Even if this vehicle was not Stephan's, it may help some other family get some answers," he said.
Stephan Adams, a Native American student at NSU who was a resident of Tahlequah at the time, went missing on Dec. 13, 2004, after leaving the college.
To this day, Adams' body or his 1995 GMC Sierra white short-wide pickup bearing the tag number SCQ-714 have not been found. Adams reportedly had connections in Sequoyah County.