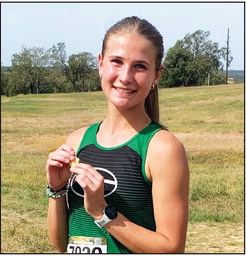 Gore senior cross country runner regional runner-up, state bound along with Central freshman
HENRYETTA — Gore Lady Pirates senior cross country runner Hallie Kinion will get to end her prep career at the biggest meet of the year, the Class 2A State Meet.
At Saturday's Class 2A Regional Meet, Kinion finished as regional runner-up with a time of 13:15.84 to earn a spot at next weekend's state meet.
Kinion will have one other local running at state as Central Lady Tigers freshman Alyvia Warner finished 11th in the two-mile race with a time of 14:10.06 to grab the sixth of seven individual state-meet berths.
The Class 2A State Meet will begin at 11 a.m. this Saturday at Edmond Santa Fe High School.
Four other local runners ran at last Saturday's regional meet. Central freshman Paris Campbell was about 24 seconds off the mark needed to qualify for state as she ran the race in a time of 14:35.48. Okemah's Madison Basinger grabbed the seventh individual berth to state as she was 13th with a time of 14:11.78.
Webbers Falls junior Cheyanne Herrier was 33rd (15:10.12) and missed the cut to make state by about a minute.
Central junior Ryleigh Pierce was 54th (15:55.67), while Central freshman Riliegh Ford was 88th (17:01.64).