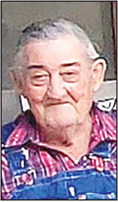 Obituaries
October 25, 2023
Robert Dale Henning
Dec. 7, 1941 – Oct. 16, 2023
Sallisaw – Funeral services for Robert Dale Henning, 81, of Sallisaw, were held at 1 p.m. on Saturday, Oct. 21, 2023, at Agent Mallory Martin Chapel in Sallisaw. Burial followed at Akins Cemetery in Sallisaw under the direction of Agent Mallory Martin Funeral Service, Inc.
Mr. Henning was born on Dec. 7, 1941, in Vian to Pauline (Trammell) Bennett and Orrin Dale Henning. He passed away on Monday, Oct. 16, 2023, in Sallisaw.
He was married to Karen Faye Martin on June 23, 1960, in Granite. She preceded him in death on Jan. 9, 2013.
He was a construction worker and of the Baptist faith.
Survivors are one daughter, Sharon Sprinkle of Sallisaw; two sons, Dale Henning of Muldrow and Bobby Henning and Katie of South Dakota; grandchildren, Amy Henning, Kris Henning, Jacob Henning, Tyler Henning, Brandi Waltermire, Robbie Comstock, Jamie Comstock, Randy Comstock, Dayle-Lynn Heart, Angela Thompson, Rebecca Flynn, Misty Hopkins, Eric Henning, Skyla Place and Kendra Martinez; 33 great-grandchildren and 14 great-great-grandchildren; one sister, Rita Parker of Tahlequah,; one brother, Danny Henning of Sallisaw; and several other relatives and friends.
He was preceded in death by his wife; one daughter, Teresa Henning; two sons, Ricky and Michael Henning; his parents;one sister, Annette; and one grandson, Derek Shockey.
Active pallbearers were Jacob Martinez, Tyler Henning, Jacob Henning, Chris Henning, Trandon Waltermire and Eric Henning.
Honorary Pallbearers were Trevor Waltermire, Dakota Waltermire and Dakota Duncan.