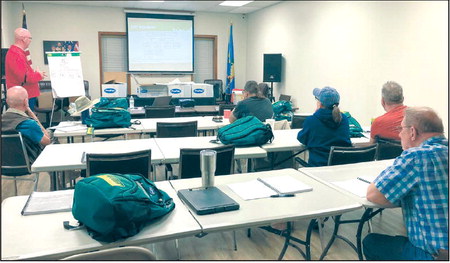 Gore Trustees pass several emergency ordinances
In a swift and unanimous decision, Gore's Board of Trustees passed a series of emergency ordinances aimed at protecting the health and safety of the town's inhabitants during their regular meeting on Oct. 10.
The meeting was called to order at 6 p.m. by Mayor Robin Henry, with a quorum present, which included vice mayor Larry Pack, and Trustees Matt Holland, Joni Couch and Gideon Miller.
During the meeting, several critical issues were discussed and subsequently acted upon, and each was met with unanimous approval from the attending trustees.
The first series of ordinances, Ordinance 10-10-2023-1, Ordinance 10-10-2023-2, Ordinance 10-10-2023-3, Ordinance 10-10-2023-4, and Ordinance 10-10-2023-5, were all passed as emergency measures to ensure the health and safety of the Town of Gore's residents. These ordinances were enacted in response to unspecified concerns, and the unanimous approval by the trustees demonstrates the urgency of the situation.
Additionally, Ordinance 10-10-2023-6 was also passed as an emergency measure. The details of these ordinances were not discussed in the meeting minutes.
Town/Court Clerk Lisa Settlemyre presented the Police Chief 's report. It was reported that the police department issued 12 citations and 28 warnings in September, resulting in the collection of over $1,500 in citation fees. The department is still await- ing radios from a Cherokee Nation grant, and School Resource Officer Christen Henson has been working in the community for two weeks, with positive results.
Fire Chief reports were also encouraging, indicating that the fire department had responded to eight calls since the previous meeting. Response times were excellent, and over half of the Swiftwater Rescue Team is now Swiftwater Technician level certified. Upcoming emergency management training, including a FEMA CERT basic training class, was met with enthusiasm.
During the Gore Public Works Authority (GPWA) meeting, GPWA Administrator Jeremy Lane gave an update on the REAP grant waterline bids and residual solids removal and disposal. He noted that bids opened up on Oct. 17.
Lane also reported a 4.9 percent water loss and five leaks for the previous month.
This news story is based on the unofficial minutes from the board meeting and could be in error if the minutes are changed prior to adoption.