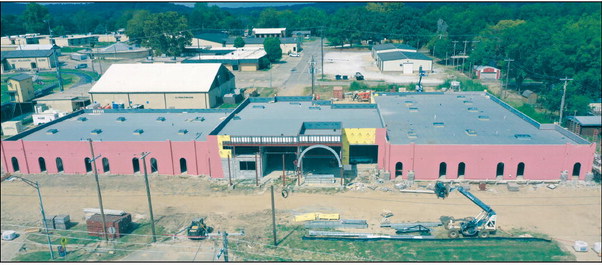 School Board approves hiring second SRO
Kenyatta Wright's NFL jersey to be retired at Nov. 3 football game
The Vian Board of Education convened at 6 p.m. on Oct. 9, to discuss a range of issues and accomplishments within the school district.
The meeting began with a recognition of achievements within the Vian School District. Among those recognized were the Fastpitch Softball team, Advanced Placement (AP) students, and the "Caught Being Kind" elementary students. The board celebrated the outstanding achievements of these students and staff. An update on the construction of the new high school was given, with board members having visited the construction site after the meeting adjourned.
During the Superintendent's Report, Superintendent John Brockman talked about Eden's structural report on the gym, the SRO (School Resource Officer) grant, an accreditation report, and the budget.
The district reported successfully passing an accreditation audit, demonstrating its commitment to maintaining high educational standards.
The board noted that the budget presentation for the 2023-24 school year would occur at the November meeting, indicating that detailed discussions of financial matters will be reserved for that time.
Numerous routine items were addressed, including the approval of minutes for all special and regular meetings from September 2023. Additionally, the board approved the final draft of school policies and voted in favor of a new alarm system and camera system for the new high school.
The board also approved an agreement with Precision Drug for drug testing for the 2023-24 school year. In an effort to enhance school security, they approved the addition of an OG&E electric meter to the visitor ticket booth.
In new business, the board decided to retire the jersey of Vian NFL player Kenyatta Wright at the upcoming Nov. 3 football game at 6:35 p.m.
Wright played for the Wolverines from 1992-95, where he earned All-State Football honors. He then continued his football career at Oklahoma State University from 1995-99. He was selected second team All – Big 12 In 1997 and in 1998. After OSU, he played in the NFL for the Buffalo Bills and the New York Jets.
The board also approved an activity account for the Outdoor Education Club, further expanding extracurricular opportunities for students; along with the approval of a school based Medicaid contract, surplus items for an auction, a residency committee, and a board resolution to call for an annual election.
The board went into executive session for about 20 minutes to discuss employment, reemployment, personnel resignations, and real property. After returning to open session, it was decided that the board would employ a second SRO. The additional officer will enhance security within the school district and provide a safer environment for students and staff.
The meeting adjourned at the construction site of the new high school at 9:15 p.m., emphasizing the significance of this ongoing project.
This news story is based on the unofficial minutes from the meeting and could be in error if the minutes are changed.