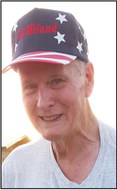 Obituaries
November 15, 2023
Dan Eugene McLaughlin Jr.
Aug. 28, 1937 – Nov. 4, 2023
Funeral services for Dan Eugene McLaughlin, Jr., 86, are held at 10 a.m. on Thursday, Nov. 9, 2023, at Agent Mallory Martin Chapel in Sallisaw. Burial followed at Akins Cemetery in Sallisaw under the direction of Agent Mallory Martin Funeral Service, Inc.
Mr. McLaughlin was born on Aug. 28, 1937, in Fort Sill, to Bonnie LaJean (Jeremiah) Glass and Dan Eugene McLaughlin Sr. He died on Saturday, Nov. 4, 2023, in Sallisaw.
He attended elementary school in Short and high school in Muldrow. He was a farmer, welder, carpenter, and millwright.
Survivors are two daughters, Genia Means and Amy Pierce and Joel, all of Sallisaw; one son-inlaw, Mike Sharp of Sallisaw; six grandchildren; nine great-grandchildren; and other relatives and friends.
He was preceded in death by his parents; one daughter, Dana Sharp; one granddaughter, Gwyn Means; and son-in-law, Tommy Means.
Pallbearers were Chris Sharp, Craig Sharp, Nick Pierce, Travis Williams, Dulaney Meadows, Joel Pierce and Mike Sharp.
Memorials may be made to the Sallisaw Animal Shelter.