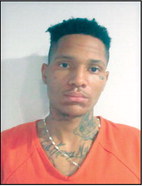 King pleads no contest, sentenced for shootings
Of two men on Interstate-40 in 2021
A Dallas, Texas man who shot two Arkansas men on Interstate-40 near Vian in July 2021 has been sentenced in Sequoyah County District Court.
Lee B. King, 29, pled no contest to two felony counts of shooting with intent to kill, two counts of maiming, and one count of attempted robbery in the first degree at his jury trial on Nov. 6, according to court records.
He was sentenced to 35 years in the Department of Corrections for each count of shooting with intent to kill, 10 years on each count of maiming, and 10 years for the attempted robbery.
Sequoyah County Sheriff Larry Lane Jr. said King shot three people on July 17, 2021, in two separate incidents.
Lane said earlier in the day, King carjacked and robbed an Oklahoma City woman before shooting her and then pawning some of her items in Tulsa. King reportedly drove the woman's stolen silver Nissan SUV to a pawn shop where he provided his information to the pawn broker before driving the vehicle until he ran out of gas, about four miles west of the Vian exit on I-40.
OSBI reported Lee flagged down two Arkansas men who were traveling on I-40, told them he was out of gas and needed a ride to the nearest gas station. The two good Samaritans, Derek Riggs and Jake Myers, both of Van Buren, reportedly took Lee to the Love's car stop in Vian where they could be seen on video purchasing gas and a gas can for Lee.
During former court testimony, Myers was questioned about what happened that day and the events leading up to the shooting of both he and his longtime friend, Riggs.
Myers said after returning to the vehicle, he got out to open the hatchback to retrieve the gas can. He said the hatchback was locked so he asked Riggs to put the vehicle in park to see if it would unlock. When he returned to the front of the vehicle he said he could hear Riggs screaming.
"I witnessed Derek wrestling across the center console fighting with the man we picked up (King) and I saw the gun in King's hands," Myers said. "I could see them struggling over the gun and I tried to open the passenger door but it was locked. That's when I heard the gun go off."
Myers said he believed a second gunshot struck him in the chin and Riggs was shot while sitting in the front seat. He said he knew both of them had to get out of the car, so he made his way to the back of it but then went back for his cell phone that was still charging.
"I knew I was going to need my phone to call for help. King was in front of the car and said something I didn't quite understand because my ears were still ringing from the gunshots," he said. "That's when he said something to the effect of 'if you don't get out of this car, I'll shoot you again.'" Myers said he retrieved his phone and ran from the car where he met up with Riggs. He said they hid in the tall grass of the median about 20 to 30 yards from where King was with the vehicle.
"But I watched him and knew Derek had the key to the car," Myers said. "King then closed the back and ran into the woods with the gas can."
The two injured men hid until an ambulance arrived. Myers said he did call 911 but couldn't speak well due the gunshot to his face.
"The bullet hit the left side of my face, went through the right and into my arm," he said. "The bullet almost destroyed my jaw and my teeth are not my own. All my lower teeth are gone and my tongue doesn't fit in my mouth properly."
He said he'd undergone seven surgeries in the last year, two of them being dental procedures. Since then he's said it's been difficult to eat and others have a hard time understanding him when he speaks.
When Riggs testified, he told District Attorney Jack Thorp he and Myers were driving when they noticed a light-colored vehicle with what appeared to be car trouble and passed King, who was walking.
"We debated on whether or not to stop and help him," Riggs said.
He said the three of them went to Love's where they purchased a gas can, gas and bottled water before heading back to the stranded vehicle.
Riggs said he remembered feeling a sense of unease and when he looked back at King, who was sitting in the backseat, he saw King brandish a semi-automatic handgun. However, he said he didn't think King knew he'd seen the handgun.
"It was then that I went into this crazy fight or flight mode," he said. "I started going through all these different scenarios in my head and I knew I couldn't leave because I had to save Jake. I was in fear for both of our lives."
Myers was reportedly shot in the face but was still able to inform first responders that King had shot both he and Riggs, and then fled the area on foot. Riggs was shot multiple times in the torso area.
Authorities attempted to locate King in a wooded perimeter of where the two men were shot but later found he'd returned to the car, put gas in and left the scene.
Several motorists reportedly stopped to assist the two men, including an emergency room doctor, until Pafford EMS arrived a few minutes later, according to an affidavit issued by OSBI Lt. Shawn Ward.
OSBI was able to link King to the crime after the OSBI Latent Evidence Unit collected a pair of shorts with a debit card in the pocket from the Nissan. Police also reported finding a shell casing matching the gun used to shoot the two Arkansas men.
Lane said police also learned King was later seen in Van Buren getting gas before somehow ending up in Antlers, Okla.
An Antlers police officer attempted to pull King over for a traffic violation but he led the officer to a dead end road where he ditched the car and disappeared into a heavily wooded area.
U.S. Marshals, OSBI, Oklahoma Highway Patrol, OKC Police and other law enforcement officers later found King in a relative's apartment in Dallas, Texas, after OSBI reported receiving a crime tip.
Court records show King was charged in Garvin County on May 24, 2021, with knowingly receiving or concealing stolen property, possession of controlled dangerous substance and transporting open container. He was released approximately two weeks prior to the shooting.
King reportedly has lengthly criminal histories in Oklahoma, Louisiana and Texas.