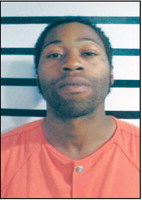 Vian man found hiding in abandoned house
A Vian man is facing charges in Sequoyah County District Court after he dislocated a deputy's shoulder and then hid from authorities in an abandoned house.
Damariae D. Ware, 31, was charged on May 3 with felony battery/assault and battery on a police officer, and criminal misdemeanor charges of escape from arrest or detention and resisting an officer. He is scheduled for a 9 a.m. May 24 felony disposition docket before Associate District Judge Kyle Waters after pleading not guilty to his charges, according to court records.
Sequoyah County Sheriff 's deputy Cody Parkerson reported on April 29 he received a call from dispatch after Ware was spotted walking in the area of Sanders Street and Martin Luther King Blvd. According to the probable cause affidavit in the case, Ware had a felony warrant out of Sequoyah County after escaping from another deputy earlier in the week.
Parkerson saw Ware walking through a yard and watched as he stopped and spoke with another man. He said Ware then took off running toward a camper on the property where he reportedly lost sight of him.
The deputy asked the man where Ware was and the man said he last saw him running north, according to the affidavit. While driving through the area, the deputy spoke with neighbors who were outside but none of them saw Ware on their property.
Parkerson returned to speak with the man where he first spotted Ware, and asked to search the property. The man said it wasn't his property, so he couldn't give him permission to search. When the deputy told the man he believed he was lying, the man pointed to the camper and said Ware owned the camper, and that's where he was staying.
O ther deputies, Vian Police and Trooper Jordan Galvan arrived to assist in locating Ware. Authorities approached the camper to find the door chained and locked from the inside. Parkerson called dispatch to confirm the warrant and was told Ware actually had two warrants for his arrest, according to the affidavit.
After several attempts to get Ware to come out of the camper, deputy Andrew Edwards administered pepper spray through a broken window but Ware never came out. The deputies then removed the chain and lock and went inside to find Ware coming out of the bathroom.
Parkerson drew his service weapon and told Ware to show his hands. As Ware was exiting the camper, he reportedly attempted to run towards Deputies Edwards and Parkerson. Edwards then tackled Ware while Parkerson, Vian Police and the trooper jumped on top of him in an attempt to take him into custody.
One of the Vian officers used pepper spray on Ware but it didn't have any effect, according to the affidavit. Parkerson then used his taser, with both prongs striking Ware in the back. Ware was able to pull both prongs out and keep running. Parkerson and the trooper continued to chase Ware on foot until he jumped a fence and reportedly took off through a yard.
Edwards dislocated his shoulder in the struggle and an ambulance was called to the scene. Parkerson saw the trooper once again chasing Ware through the area and went to assist. The trooper said he chased Ware into an abandoned residence near the intersection of Leftwich and Ottawa Streets, and Ware locked the door before he was able to gain entry inside.
Undersheriff Charles House, Investigator B.R. Rutherford and deputies Jeff Neighbors and Charles Webber arrived and House knocked on the door, telling Ware to come out. After several attempts, House told Ware if he didn't come out he was going to deploy pepper spray. The pepper spray was deployed and police entered the residence where they reportedly found Ware hiding in the attic. After giving multiple commands for Ware to come out, several pepper balls were deployed into the attic and after some time, Ware finally came down and was taken into custody.