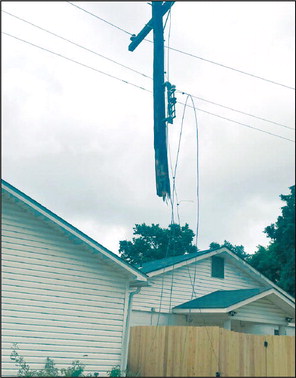 Big rig wreaks havoc
A semi truck driver wreaked havoc on local residents last week after taking down several lines on old Highway 82, leaving many without power and internet.
"We understand there are mixed emotions about us stopping the big rigs in town. As much as we appreciate what they do for this country, we also have to deal with the aftermath they often leave behind because they chose to not read the signs put in place by the state," Vian Police Chief Mark Harkins said.
Harkins asked residents to be patient while Windstream and OG&E restored services to several Vian residents on old Hwy. 82 extending to City Lake.
"Repairs will likely run upwards of a couple hundred thousand for new fiber optic lines, three poles and power lines," Harkins said. "Camille's Kidz day care center also had to call parents to come get their children early, while city workers, law enforcement, and utility crews had to work over, all due to someone disregarding signs."
The police chief said he hopes this serves as a reminder that when officers stop these big trucks, it's to prevent major inconveniences to the citizens they serve, just like this one.