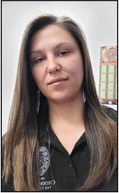 Bolin enjoys working and time on the water
Brushy Mountain resident Bobbie Bolin says when she's not working, she's taking advantage of any opportunities on the water.
Bolin, 32, is supervisor for both the Sallisaw and Stilwell Cherokee Nation tag offices.
"I've worked for the Cherokee Nation for the past five years now, but I took on this new role as supervisor about a year ago," Bolin said.
As supervisor, Bolin said her duties include answering questions from her staff, maintaining both offices to run efficientally and filling in at the counter when needed.
"There are times when we are really busy but I love that my job is fast paced and I get to help people," she said. "My co-workers are also great, so that really makes a difference!"
While her job is rewarding, she said the best thing about living in Sequoyah County is the area's lakes and rivers, and she takes advantage of them as often as she can.
"I grew up in Vian and went to school there, and both my parents, Sam and Jill Bolin, still live there. So I feel like I have a lot of ties to Vian and the surrounding area," she said. "And of course Vian is close to Lake Tenkiller and the Illinois River. There was always a way to cool off and find things to do when you didn't live far from either one."
Bolin said she also enjoyed spending time with her older siblings, Sam Jr. and Amy, while growing up and remains close to them.
"While I love the lakes and rivers, I also like living here because my family is here," she said. "I love to go camping and fishing with them any chance I get, and we also enjoy kayaking from time to time."
Now Bolin is passing on those traditions to her two children, Sacha, 10, and Phillip, 7, who are both students at Brushy Elementary.