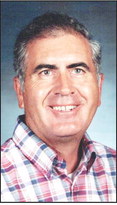 Don Goode Garvin
Feb. 6, 1933 – June 28, 2023
Muskogee – Funeral services for Don Goode Garvin, 90, of Muskogee, were at 10 a.m., Monday, July 3, 2023, at Cornerstone Funeral Home Chapel. Burial followed at Greenhill Cemetery with military honors, under the direction of Cornerstone Funeral Home of Muskogee. Mr. Garvin was born Feb. 6, 1933, near Hanson, to Ben "Tuff" Garvin and Elsie Gertrude Garvin. He died on Wednesday, June 28, 2023.
He graduated from Central High School, attended Connors Junior College, graduated from Oklahoma State University, and received a master's degree from Southeastern State University. He graduated from the Basic Infantry Officers' School at Benning, Ga., attaining the rank of Captain in the Air Force Reserves.
He was a teacher and coach at Muskogee Public Schools and also taught at Sequoyah High School, for a total of 43 and a half years in education. Additionally, he was a rancher, real estate broker, home and swimming pool builder, and a deacon at Central Baptist Church.
After retiring from teaching, he was elected for four terms to serve on the Cherokee Nation Tribal Council representing the Three Rivers District for 18 years.
He was married to Jo Elaine Williamson on June 20, 1959, in Muskogee.
Survivors are his wife, Jo Elaine; daughter, Jill Tipton and husband John; two granddaughters; five great-grandchildren; and many other family members and friends.