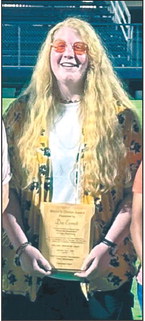 Vian's Favorite Daughter: Dee Everett, Mayor's choice
Dee Destiny Everett is this year's Mayor Choice award recipient for Vian's Favorite Sons and Daughters.
Everett, a proud Vian Wolverine, attended Vian Public Schools from preschool through 12th grade. While there, she immersed herself in musical arts. She was an active choir member and percussionist in the Vian Band of Gold for eight years, receiving numerous superior awards, including the outstanding musician award.
She started work at Simple Simon's while in high school in 2015. After graduating in 2016, she continued her career at Simple Simon's working for Jimmy and Connie Decker. They saw great potential in her, making her the manger after a year of working there, teaching her the ins and outs of the business and instilling excellent work ethic.
At the age of 23, she eventually bought the business on July 1, 2021, after having worked her way up for six years. She's owned the business two years as of today, and thoroughly enjoys serving her community.
Dee looks forward to many more years of services in Vian, attributing her success to her supportive village; most importantly her grandparents, Ray and Elsie Johnson, who shaped her into the individual she is today. Her nearest and dearest person, Emily Foster, is always by her side and pushing her to be the best she can be.
She would also like to extend a special thanks to Jimmy Decker, her mentor and role model, who sold her the business and has guided her every step of the way to success; and to the community, which she is very grateful to for giving her many opportunities and supporting her business.