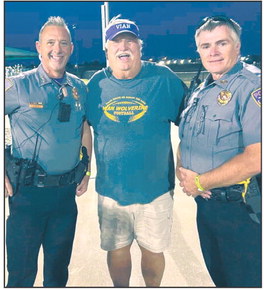 In light of shooting, police will be present at all football games
Following a fatal shooting last month at a high school football game in Choctaw, local authorities and state law enforcement agencies have been working hand-in-hand, ensuring that it doesn't happen in their school districts.
A 15-year-old male juvenile was arrested after reportedly shooting and killing a 16-yearold male juvenile at the game, which was between Choctaw High School and Del City High School.
According to stories published by Associated Press (AP), two others were wounded after the shooting sent players and officials scrambling off the field, causing panicked spectators to hunker down in the stands.
Authorities said there was ? police presence at the football game, and an on-duty
Del City police officer who was providing security, reportedly fired his weapon. However, the bullet unfortunately struck a 42-year-old man at the game, leaving him critically injured. The AP went on to report that the off-duty officer was one of two who had accompanied the Del City High School team to the game in Choctaw. Both of those officers are on paid leave, according to Del City Police Chief Loyd Berger.
"In light of recent events across the country, Vian Public Schools and the Vian Police Department have collaborated and determined that SRO (School Resource Officer) Captain Robert Allen and one additional officer will accompany the football team on all away games to assist with additional security protection on the visitor's side," Vian Police Chief Mark Harkins said.
Vian resident and Cherokee Councilman E.O. "Jr." Smith said the decision is a great effort made by the two.
"I really appreciate having two Vian policemen attending every road game this year," Smith said. "There's nothing more important than our kids."
"I also wanted to touch base and remind everyone that if you see us at the game and if we seem distracted or like we are not paying attention, please know we are merely focused on providing protection for our student athletes and fans as much as possible," Harkins said.
"We absolutely love to interact with everyone and will do so every chance we get."