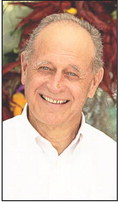 Obituaries
September 13, 2023
Michael Ray McKinney
Oct. 24, 1946 – Sept. 5, 2023
Sallisaw – Funeral services for Michael Ray McKinney, 76, of Sallisaw, were held at 10 a.m. on Friday, Sept. 8, 2023, at Immanuel Baptist Church in Sallisaw. Burial followed at Buffington Cemetery in Sallisaw under the direction of Agent Mallory Martin Funeral Service, Inc.
Mr. McKinney was born on Oct. 24, 1946, in Sallisaw to Alpha Lee (Taylor) McKinney and Wayne Fredrick McKinney. He died on Tuesday, Sept. 5, 2023, in Sallisaw.
He was married to Linda Carol Brooks on July 31, 1965.
He was a surveyor on the construction of Kerr Lock and Dam for five years, retired as a transportation equipment operator for Oklahoma Department of Transportation after 19 plus years, and was a minister of the Free Holiness Faith for 33 years.
Survivors are his wife, Linda McKinney of the home; three sons, Todd McKinney and Brandi, Tim McKinney and Kellie, and Mike McKinney and Chelsea, all of Sallisaw; eight grandchildren; six great-grandchildren; two sisters, Deborah Matthews, and Dianne Rhoades and Eddy, all of Sallisaw; two brothers, Robert McKinney and Myrna of Claremore and Mark McKinney and Cindy of Owasso; and several other relatives and friends.
He was preceded in death by his parents. Pallbearers were Todd McKinney, Tim McKinney, Mikey McKinney, Wes McKinney, Justice Williams and Zane McKinney.
Honorary pallbearers were employees of Oklahoma Department of Transportation and his Free Holiness Brotherhood.