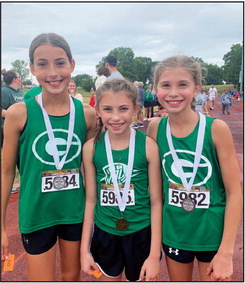 sports
September 20, 2023
Gore Pirates elementary cross country team wins Sequoyah Lamont Frazier Invitational; Lady Pirates fourth
TAHLEQUAH — The Gore Pirates elementary school cross country team won the 25th annual Sequoya Lamont Frazier Invitational, which took place Saturday, with 27 points, just edging runner-up Maryetta (29 points).
Two Pirates made the top 10 as Cale Cox was seventh (6:42.21), while Quinn Montgomery was 10th (6:44.23).
Kaden Elam was 14th (6:59.68), Eli Montgomery was 15th (7:00.81), Tripp Smith was 17th (7:12.26), Ian Munson was 19th (7:25.32), Gus Smith was 25th (7:53.76), Lane Harwood was 26th (7:59.49), Thorn Cearley was 31st (8:44.09) and Jett Ward was 32nd (8:54.99).
The Lady Pirates finished in fourth place in the team standings in the elementary school girls race with 61 points, finishing behind team champion Woodall (46 points), Maryetta (56) and Jay (57).
Three Lady Pirates made the top 10 as Annika Pruitt was third (7:06.01), Taylor Kinion was sixth (7:13.53) and Ashlynn Munson was ninth (7:16.87).
Kimberlynn Quick was 26th (8:02.7), Karsyn Springer was 28th (8:03.48), Dakota Wolf was 29th (8:15.87), Elle Keathley was 35th (9:00.24), River Johnson was 38th (9:09.87), Alivia Munson was 44th (9:25.89) and Blakely Smith was 46th (9:50.32).