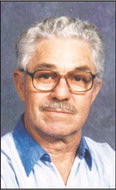 Obituaries
September 20, 2023
Morris Collins
May 29, 1931 – Sept. 10, 2023
Blackgum – Funeral services for Morris Collins, 92, of Blackgum, were held at 2 p.m. Wednesday, Sept. 13, 2023, at Harvestime Church. Burial was at Box Cemetery in Vian under the direction of Agent & Mallory-Martin Funeral Home.
Mr. Collins was born on May 29, 1931, in Blackgum, to Efton Collins and Verda (Hawkins) Collins. He died on Sunday, Sept. 10, 2023, in Gore.
He was a carpenter and member of Blackgum Harvestime Church.
He married Patricia Ann Smith on June 13, 1963, in Stilwell.
Survivors include his wife, Patricia Collins of the home; one daughter, Lisa Collins of Gore; one son, Timothy Collins of Gore; one sister, Wanda Risley of Blackgum; one brother, Irvin Collins of Blackgum; four grandchildren; four great-grandchildren; and other family members and friends.
He was preceded in death by his parents; two sisters, Nellie Enky and Audrey Ritter; and two brothers, Dwight Collins and Voyd Collins.
Pallbearers were Alex Harris, Nolan Harris, Chase Powell and Connor Rodden.