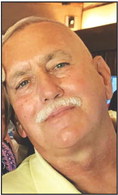 Obituaries
September 20, 2023
Randolph 'Randy' Hall Jr.
Saturday, Sept. 9, 2023
Mr. Hall passed away on Saturday, Sept. 9, 2023, in Fort Smith, Ark.
He received a Master's Degree in Criminal Justice from Northeastern State University, and prior to entering law enforcement, he served as a Sergeant in the U.S. Marines from 1975-80. He had a career in law enforcement spanning over 40 years, serving the communities of Fort Smith and Hope, Ark. and Roland. In May 2023, he retired from his position as Resource Officer with Roland Public School after 21 years.
Survivors are his children, Glenda K. Holzman and husband Brian of Hutchinson, Kan. and Brandon Chase Hall and partner Mellissa Monks of Sallisaw; two step-children, Tammy Guillet and husband Nic of Riverview, Fla. and Jason Whitsitt of Kansas City, Mo.; eight grandchildren; one brother, Mike Hall; and one sister, Glenda Humphrey.
He was preceded in death by his father, Randolph Hall Sr.; mother, Loretta Cranford; two brothers, Phillip and Billy Humphrey; and one sister, Mary Humphrey.
Pallbearers were Rylen Holzman, Alex Cabrera, Richard Seabolt, Bryce Landers, Gary Wagner and Tommy Sessums.
Honorary pallbearers were Cameron Guillet, Collin Guillet, Kade Holzman, Michael Hall and William Hall.
Roland – Funeral services for Randolph "Randy" Hall Jr., 65, of Roland, were at 10 a.m. Tuesday, Sept. 19, 2023, at River Glenn Chapel in Fort Smith, Ark. Burial followed with full military honors at Fort Smith National Cemetery.