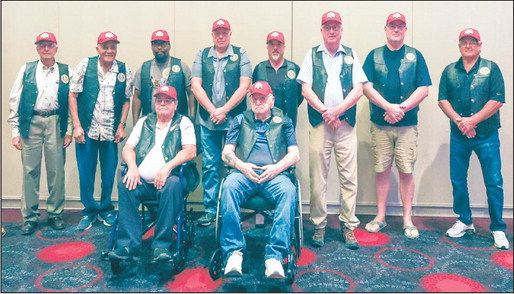 Residents return from Cherokee Nation's Warrior Flight
The Cherokee Nation's ninth Cherokee Warrior Flight departed last Tuesday for Washington, D.C., with 10 veterans who served during the Vietnam War and the Global War on Terrorism eras.
Veterans returned to the Tulsa International Airport on Sept. 15.
The Cherokee Nation funds the flight for Cherokee veterans to see the national war memorials erected in their honor at the nation's capital.
During the four-day trip, Cherokee Warriors toured the World War II Memorial, Korean War Veteran's Memorial, Vietnam Wall Memorial and a number of other sites.
"These Cherokee Warriors have been such a blessing to us all for their selfless sacrifices that they've made," Deputy Chief Bryan Warner said, prior to the flight. "I know they are in store for some healing and fellowship. I'm so thankful to get to see them go on this trip. These Cherokee veterans served their country and the Cherokee Nation commendably and I can't thank them enough."
Last Tuesday, a luncheon was held at the Hard Rock Hotel & Casino Tulsa to present the warriors with vests and caps ahead of their flight to Washington, D.C.
"I was just thrilled and honored to be joining in on another Warrior Flight," Secretary of Veterans Affairs S. Joe Crittenden, a U.S. Navy veteran, said. "To be in our nation's capital with fellow veterans is just an unmatchable experience and such a blessing."
The Cherokee Warrior Flight is similar to the national honor flight organization's goal of helping veterans, willing and able, to see the memorials dedicated to honor their service.
Veterans participating in the 2023 Cherokee Warrior Flight included: Vietnam War David Floyd, 66, Army, of Wagoner Raymond Buzzard Jr., 76, Army, of Marble City Conn Davis, 77, Air Force, of South Coffeyville Doyle Clark, 79, Marines, of Muskogee William Lawrie Jr., 79, Army, of Collinsville Johnnie Cotton, 68, Marines, of Oklahoma City John Carleton, 79, Air Force, of Owasso George Carter Jr., 70, Air Force, of Gore Global War on Terrorism Jared Harnar, 52, Marines, of Springfield, Missouri Stieven Davidson, 57, Air Force, of Fort Worth, Texas