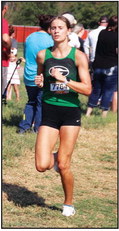 sports
September 27, 2023
Gore senior runner wins Sallisaw Invitational
Gore Lady Pirate senior cross country runner Hallie Kinion bested the field of 29 runners in the field to win Saturday morning's Sallisaw Invitational. She won the two-mile race in a time of 14:24.76.
Kinion's teammate, Amelia White, finished 17th with a time of 17:44.51.
In the junior high boys' two-mile race, three Pirates earned medals. Trenton Cunningham was eighth (15:57.04), Weston Cunningham was 10th (16:13.23) and Cole Brooksher was 14th (16:37.73).