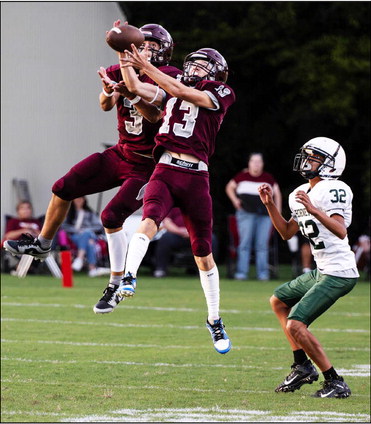 sports
September 27, 2023
Webbers Falls Warriors sting Cave Springs Hornets
The Webbers Falls Warriors are entering their bye week at 5-0 after they routed the Cave Springs Hornets 58-16 Friday night at Smokey Cox Stadium.
With the game tied at 16-all with 10:25 left before halftime, the Warriors scored twice before the break on touchdown runs by Maddux Shelby, his second of the game, and Braydan Robinson, and a two-point conversion run by Shelby after Robinson's TD, to take a 30-16 lead at halftime.
With 8:39 left in the third quarter, Dakota Moore scored a touchdown, with Shelby scoring the two-point conversion, to up the Webbers Falls advantage to 38-16.
After a Dylan Young interception, the Warriors took advantage of the takeaway as Shelby scored his third TD and Braydan Robinson added the two-point conversion for a 46-16 lead after three quarters.
Moore hit paydirt for the second time with 9:06 left in the game for a 52-16 lead for the Warriors.
After Cave Springs was stopped on downs with 7:09 remaining to play, Brutus Robinson, who took over for Shelby at quarterback in the fourth quarter, scored a TD to end the game's scoring.
After Young's first interception of the game, the Warriors cashed in the takeaway as Shelby scored his first touchdown. Aiden Turley's two-point conversion gave Webbers Falls an 8-0 lead with 9:25 left in the first quarter. The Hornets (2-2) got the game tied at 8-all after one period.
Turley regained the lead for the Warriors on a TD run with 11:34 remaining before halftime. Braydan Robinson's two-point conversion made it 16-8.
The Hornets scored on their ensuing drive and made their twopoint conversion to tie the game at 16-all with 10:25 left in the first half.