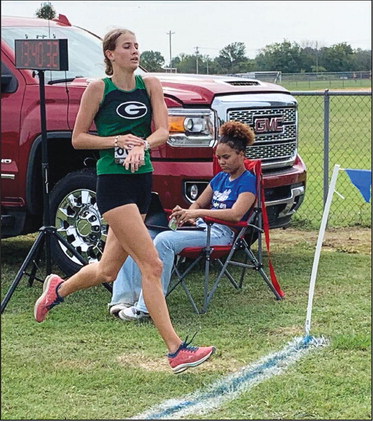 Gore runner third at Checotah Crossroads Meet
CHECOTAH — Gore Lady Pirates senior cross country runner Hallie Kinion placed third in the Checotah Crossroads Meet, which took place Oct. 3. She ran the two-mile course in 13:42.04.
Two other Lady Pirates ran the course as Gore's Amelia White was 56th (16:28.71) and Gracie Bruce was 128th (20:09.39).
The Central Lady Tigers were 11th with 364 points.
As for the Lady Tigers, Paris Campbell was their fastest runner, covering the twomile course in 15:02.9 to place 22nd. Alyvia Warner was right behind her in 23rd place (15:13.92), followed by Ryleigh Pierce in 90th place (17:28.24), Rileigh Ford in 96th place (17:43.21) and Camryn Gilliam in 155th place (21:22.49).
Webbers Falls junior Cheyanne Herrier was 25th (15:25.84).
In the junior high girls division, the Lady Tigers were runnersup with 67 points, finishing behind team champion Warner (58 points). Sallisaw was ninth (331).
Three Lady Tigers made the top 15 as Sara Williams was fifth (8:31.59), Sadie Huff was sixth (8:32.54) and Emma Baggs was 10th (8:42.06) in the onemile run. Graye Riggs was 16th (9:00.6), while Cobie Cawhorn was 30th (9:27.28).
In the junior high boys division, the Tigers were sixth with 256 points.
Caden Bair was the lone Tiger to make the top 15 as he was 13th (7:40.12), followed by Aiden Cawhorn in 24th place (8:01.1), Kage Poindexter in 37th place (8:24.15), Mason Louthan in 89th place (9:46.59) and Ian Greer was 113th (11:39.71).